Welcome
Introducing an international conference "MANUFUTURE 2017 – Moving up the Value Chain" taking place on 24-25 October, 2017 in Tallinn, Estonia. This will be the 9th time since 2001 that we have imagined the future of manufacturing.*
MANUFUTURE 2017 will focus on smart manufacturing, Industry 4.0 in practice, the factories of the future, robotics, the internet of things and smart products. The program is taking shape here at the conference website and the registration is opened. Please find the registration terms and form below.
The conference MANUFUTURE 2017 is planned for the second half of Estonia's Presidency of the Council of the European Union (EU) in autumn 2017, at a time when the biggest EU Research and Innovation program Horizon 2020 is just on its halfway. The conference will thus serve as a forum for stakeholders from industry, universities, research institutions and government to discuss the possibilities on how to better put the EU Framework Programme for research and innovation and respective national initiatives into operation.
In the course of the process of the EU presidency, Estonia is paying attention how to shape the positions of different stakeholders regarding general and sectoral industrial policies in the context of the European Union, including is taken into account the European Union Industrial Renaissance initiative.
19:00 – 21:00
Welcome Reception for all participants (at the Energy Discovery Centre)
9:30 – 9:45
Conference opening
9:45 – 10:30
Key note speech(es)
10:30 – 11:15
Plenary Session 1: Competitiveness and Sustainability of European Manufacturing, incl. Digitisation
Stream 1:
Digital Manufacturing
Stream 2:
Sustainability & the Circular Economy
Stream 3:
Collaborative Technological Innovation
11:15 – 11:45
Networking break
Networking break
Networking break
11:45 – 13:00
Industry 4.0 in Practice: Advancing the Digitisation of European Industry
Social Manufacturing: Life-long careers, role of education etc.
New Collaborative Models for
Technological Innovation
14:00 – 15:30
Manufacturing 4.0: Digital Platforms, incl. Data security
Continuous and Dynamic Supply Chains
Achieving Factories 4.0: Collaborative Success Stories (part one)
15:30 – 16:00
Networking break
Networking break
Networking break
16:00 – 17:00
Personalised Manufacturing: A Customer-Centred Industry
Sustainable Resource Efficiency in the Process Industry
Achieving Factories 4.0: Collaborative Success Stories (part two)
17:00 – 17:30
Networking break
19:00 – 20:00
Tour of the Seaplane Harbour
20:00 – 23:00
Conference Dinner
WEDNESDAY 25 October 2017
9:00 – 13:00
Industry Visits
9:00 – 13:00
Matchmaking Meetings
Stream 1:
Digital Manufacturing
Stream 2:
Sustainability & the Circular Economy
Stream 3:
Collaborative Technological Innovation
9:00-10:30
Industry 4.0: From Theory to Practice
Increasing Material Efficiency: The Race to Reduce Waste
Approaches to Technology Collaboration: International, European & Regional
10:30 – 11:00
Networking break
Networking break
Networking break
11:00-13:00
Digital Innovation Hubs: National & Regional Initiatives
Strategies for Industry in the Circular Economy
Leveraging Innovation: Financing Results to the Market
13:30 – 14:30
Plenary Session 2: Combining new technologies (incl. digital) with new business models
14:30 – 15:30
Plenary Session 3: Rapporteurs from the different streams
15:30 – 16:00
Conference Closing: Handing over of the Manufuture flag Video-icon
Participation terms
The conference is invitational and not for public. For invited guests the participation is free of charge. If you have received a personal invitation by email please register with the special invitation code.
If you have not received an invitation but would like to attend, please appy for your personal invitation at the conference web site.
Three focus areas of MANUFUTURE 2017 conference
28.12.2016
We met with Mr. Tauno Otto, Dean of Faculty of Mechanical Engineering at Tallinn University of Technology to inquire about the topics of upcoming MANUFUTURE 2017 conference in Tallinn. "We are well underway with content preparations," says Mr. Otto and continues: "After first brainstorms, we have three main topics that will be pillars of the program. First, Energy and Resource efficient manufacturing. This will look at how the emerging circular economy and energy measures can help reduce costs whilst at the same time potentially creating… READ MORE new products to counter longer term shortages of key materials and potential energy shortages/cost increases. The second main focus area is Digital Manufacturing and the Fourth Industrial Revolution – looking at how the increasing power of digital technology is concertinaing supply chains and driving the rise of personalisation and servitisation. The factory of the future will be a connected factory – connected to consumers and to suppliers delivering real added value to the manufacturing sector. This technology has the real scope to encourage re-shoring within the EU. And third, we will look into Collaborative Technological Innovation – focusing on a range of new technologies that are driving rapid change in the sector. From autonomous systems and remote sensing to advances in materials and other technologies." SHOW LESS
We have an excellent range of accommodation options for our conference guests. Kindly arrange your accommodation directly with the hotel and use the hotel promotional code to get the special price we have agreed.
Located on the edge of Politsei Park just steps away from the city centre, Hilton Tallinn Park ensures an unforgettable stay. Take in the spectacular views of the enchanting Old Town and harbour showcased to their fullest by the hotel's captivating modern glass structure. Enjoy spacious guest rooms, warm and professional service, and amenities designed with guests in mind. With an impressive range of flexible, state-of-the-art business and meeting facilities close to all the major attractions, it is an ideal venue for business and leisure travellers alike.
Rates and booking
Tallink City Hotel is located in the heart of Tallinn, amid the popular downtown shopping and business areas and just a few minutes' walk from the historic Old Town. Residing in a fully renovated 1970s-era shopping arcade, the modern hotel today serves as an ideal base for exploring Estonia's beautiful capital city.
Rates and booking
Step into a world of ease and luxury at Swissôtel Tallinn, the tallest building in the city, boasting impressive views of the old town and the Baltic Sea. Tallinn's International Airport is only 15 minutes away, while the beautifully restored medieval old town, a UNESCO World Heritage Site with distinctive cobblestone streets, is only a 10-minute walk from the hotel.
The 238 elegantly appointed guest rooms and suites feature state-of-the-art technology, exclusive amenities and services that cater to the needs of the discerning business and leisure traveller. Executive rooms and the Swiss Executive Club lounge provide additional luxury and exclusivity. The facilities of this deluxe hotel leave absolutely nothing to be desired, including three exquisite restaurants and two bars, a heated indoor pool with sauna and steam room and a well-equipped fitness club.
Rates and booking
Hotel L'Ermitage has a wonderful location in the centre of Tallinn right next to the Old Town in the quietest and greenest part of the city centre. At the distance of a 5 minutes' walk is the historic Town Hall Square – the very heart of the Old Town. Hotel L`Ermitage has a modern architecture and contemporary furnishings with carefully designed detailing. The building can be recognized from afar by its unique facade clad with copper. The hotel has comfortable rooms, a sauna, a conference room and an à la carte restaurant with attentive service. There are altogether 122 rooms in Hotel L'Ermitage, including Standard and Business rooms, Superior and Familiy rooms, Junior Suites and Suites with Sauna.
Rates and booking
Located in the heart of the capital, this modern Tallinn hotel offers easy access to Old Town and the Parliament of Estonia. Guests stay only a short distance from many city centre attractions, including shopping, theatres and restaurants. Stylish and contemporary, the hotel welcomes guests with 465 tastefully decorated rooms that include tea and coffee provisions and air conditioning. Dine on site at Grill250 restaurant serving grilled specialities and relax at the pastry cafeteria Mademoiselle or have drinks at Cubano bar. Guests also enjoy Free Wireless High-speed Internet, convenient outdoor and garage parking, extensive spa and sauna areas, and a Sports Club with personal trainers available. This hotel features expansive meeting facilities, including 14 versatile conference rooms. All conference rooms provide Free Wireless High-speed Internet and modern audiovisual equipment to ensure comfortable and productive meetings.
Rates and booking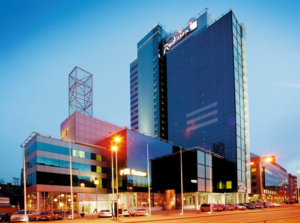 Rising above the Estonian capital, the Radisson Blu Sky Hotel provides sweeping views of the city. Our location in Tallinn city center lets visitors walk to many cultural attractions, including the historical Old Town, and the Tallinn Airport is only 4 kilometers away. Choose from 280 rooms and suites with amazing views of either the cityscape or the Gulf of Finland. Start your day with the amazing spread at Seasons Restaurant's Super Breakfast Buffet, and finish with a nightcap at one of our on-site bars. A fitness center, private sauna and beauty spa let guests unwind or pamper themselves, while our business center and well-equipped conference rooms help them meet their business goals.
Rates and booking
Savoy Boutique Hotel situated at the heart of Old Town was built in 1890, and it has been renovated in the art deco style. The hotel is characterised by its decorative style and use of luxurious materials and various elements of modern art.
Rates and booking
The newly renovated traditionally modern Hotel Palace is situated in Tallinn's Vabaduse Väljak (Free- dom Square). The building completed in 1937 is one of the most exciting, glamorous and spectacular buildings. The hotel rooms are designed in keeping with elegance and decorousness, the form of '30s furniture and Konrad Mägi, whose paintings have inspired the painting fragments in the rooms.
Rates and booking
This conference has received funding from the European Union's Horizon 2020 research and innovation programme.